Adult & Community Learning
Adult and Community Learning 2020-2021
We are pleased, once again, to be part of Herefordshire Council's Adult & Community Learning provision, running a range of courses and opportunities for adults with a learning disability to help them develop skills for independent living, engage more fully in their local community, and improve their quality of life.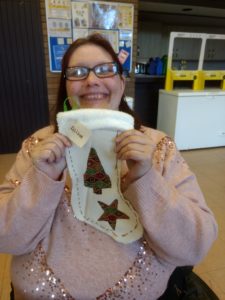 Courses to help develop knowledge and skills include a new Introduction to IT course which will enable our learners to gain confidence using IT and eventually to engage with online communications such as Zoom.
Learners attending Crafty Gifts will develop their craft skills, making presents for friends, with an emphasis on recycling and sustainability. An opportunity for those with more complex needs to learn about cultivating, growing and harvesting healthy things to eat will be provided in our Cultivating the Courtyard course.
Whilst the Building a Story programme focuses on improving teamwork, co-operation, listening, concentration and memory, decision making and effective communication.
This year we are offering two programmes of courses to promote confidence and healthy living. Wellbeing after Lockdown will provide practical ways to reduce anxiety, encourage relaxation and increase confidence. Yoga Awareness for Everyday Life aims to support people with a learning disability to experience the physical and mental benefits of yoga and recognise how it can help with their day to day lives.
Lastly, we are running some courses aimed at providing access to new opportunities, helping to reduce isolation. The Volunteering courses will support learners with disabilities and/or mental health issues to gain the skills and confidence to then move into a volunteering role. How to be a Good Steward will look more specifically at volunteers' interaction with the general public and how to improve customer service skills.
Adult Community Learning course 2020

How to be a Good Steward – making the walk safe and accessible
For further information, please contact Maggie at maggie.percy@echoherefordshire.co.uk
We are very grateful to the Education & Skills Funding Agency and to the European Social Fund for funding this provision.
Group learning, peer support and the development of practical skills are central to the majority of our courses. Because of this, the abilities of the learners who access our courses, plus the lack of technical support and equipment our learners have at home, we are unfortunately unable to offer any of our courses in the form of remote learning.
For  more information about the Adult learning programme please visit Herefordshire Council's website
Student feedback on the Volunteering course
"I really enjoyed it and learnt so much.
Can't wait to get started and I had a good group to to it with"