Studio Mirai
Studio Mirai is a social enterprise selling upcycled and restored furniture as well as wooden products manufactured by people with learning disabilities. We are based in a large well-equipped workshop on Bridge Street, Leominster where we make and sell a variety of hand crafted upcycled and restored items, we also have a retail space at the Retro Station. We also undertake private commissions for clients who require either furniture repair or painting.
We work mainly on donated pieces of furniture and timber thus helping the environment by reducing landfill.
People who attend enjoy a wide range of practical activities which teach them new skills such as basic woodworking methods, upcycling techniques, restoration processes, decorative painting and finishing techniques as well as retailing & marketing skills, customer service, numeracy, and literacy.
During the summer months we take advantage of a large outside space where we can undertake practical work, socialise during breaktimes, and utilise this secure private area for simple ball games and gardening activities.
Instruction is provided by three experienced and skilled staff members as well as support from a team of ten volunteers who all bring something different to the project in terms of their experience and specific skill sets.
A large well-equipped and comfortable kitchen area provides a pleasant social space for break/lunch times and all necessary safety and protective equipment is provided for you.
Visitors are frequent both to view the workshop activities and to purchase items from the shop, so this project also enables you to meet a large number of different people and to help them with their requirements.
Individuals learn:
• Basic woodworking methods
• Upcycling Techniques
• Restoration processes
• Decorative painting and finishing techniques
• Retailing and Marketing skills
• Customer Service Practises
• Project Specific Numeracy and Literacy
Keep up to date with work in progress at the project on our Facebook page. Be sure to give us a like and a follow.
We are open Mondays – Fridays 9.30am – 3.00pm
How to contact us:
Call on 01568 614444
email Nic Bullock, Project Leader nic.bullock@echoherefordshire.co.uk
or for new referrals, Claire Mee
claire.mee@echoherefordshire.co.uk
Via the Facebook page HERE
Instagram HERE
Products can be purchased from the workshop at Bridge Street and The Retrostation in Leominster. We also advertise on Gumtree.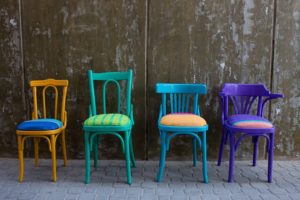 Can you help?
We are on the lookout for:
Unwanted wooden furniture (Not manufactured boards)
Unwanted paints, stains and varnishes (Not oil based paint)
Unwanted workshop/garden tools
Offcuts of timber
Wooden paraphernalia
Flatscreen TV to display images of past projects
Lawn mower
Garden plants, shrubs and trees
Garden furniture

Call or Message us if you can assist
Find us here: