Coronavirus Latest Update from our Chief Officer
Dear Participants and Carers,
I hope you are all well. We have been keeping in touch with you all and staff have made over 2400 contacts since our activities stopped. It is great hear what you have all been up to and how you are feeling.
More recently we have started our planning for when we will be able to re-open. Over the next few weeks ECHO is making some temporary changes and during this time we will have a smaller staff team working. Please do not worry about this change as it is very much short term and all the staff who are going to be away will be joining us again soon.
We will still stay in contact but it may mean that the person who contacts you may change. Remember that if you need to get hold of us you can still call the office on 01568 620 307 or reach us via e-mail at echo.info@echoherefordshire.co.uk . Also visit our website and social media for news and information.
An important part of our planning is hearing from you about how you feel when you think about returning. It is natural for people to be worried about coming back, as we have been told to stay at home for so long. There is a survey on our website and possibly e-mailed to you, for you to write down your thoughts to let us know how you feel about coming back. Please do fill it in as it will help us shape what we do. You can find a copy of a survey here:
https://www.echoherefordshire.org.uk/get-involved/back-echo-survey/
Once we have finalised our plans, we will be in touch to let you know what is happening and to support your return. This will include talking to you about what changes we have put in place and what your day will look like.
Look after yourselves and each other, and remember ECHO is here for you.
To see the latest Government guidance click here

Mike Cook
Chief Officer,
ECHO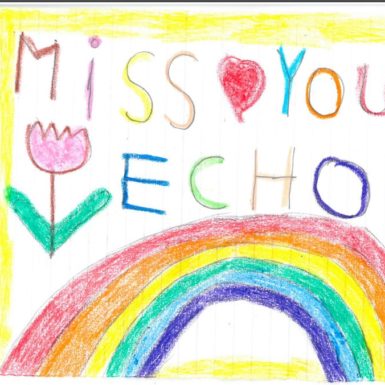 In the spotlight
Keep in touch
Thank you to everyone who has sent us pictures, videos and messages during lockdown. It's lovely to see all the things you have been doing to keep busy during your time in isolation. Keep sending in your artwork, ideas and comments. Let us know how you are and importantly, let us know if we can help. Look after yourselves and remember ECHO is here for you.