message from Mike, our Chief Officer
Dear Participants, Families and Carers,
As you will know the Government has said there will be a national lockdown again.
ECHO remains OPEN but we will need to work in a different way to support everyone as best we can.
Activities will now happen with:
face to face contact for the most vulnerable, this will mean reduced numbers
online support and activities, many of you were able to access ECHO this way in the last lockdown
phone chats, we will make welfare calls to make sure you are all okay
post, will be used to send out activity packs
Remember ECHO is here for you – do let us know if you are struggling or need help with anything.
How to contact ECHO
You can call the main office which will be open 9am – 4pm on Monday to Friday.
The number is 01568 620307
Send us an email to echo.info@echoherefordshire.co.uk.
Follow us on Twitter and Facebook.
How long will these changes last?
These changes are happening straight away (05.01.21) and we will review them in two weeks time.
Activities Extra Online
We have a busy programme of online activity lined up for January. Click the link to download the programme, see what's on offer and how you can make a booking.

Mike Cook
Chief Officer,
ECHO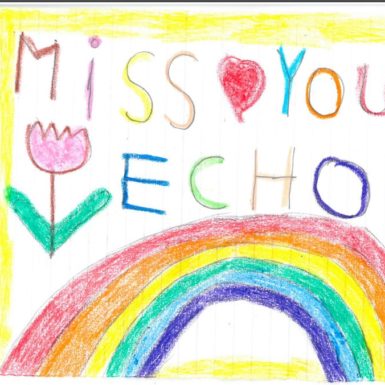 In the spotlight
Keep in touch
Thank you to everyone who has sent us pictures, videos and messages during lockdown. It's lovely to see all the things you have been doing to keep busy during your time in isolation. Keep sending in your artwork, ideas and comments. Let us know how you are and importantly, let us know if we can help. Look after yourselves and remember ECHO is here for you.