message from Mike, our Chief Officer
Dear Participants, Volunteers, Carers and friends of ECHO,
It has been a great relief to see so many of our participants back with us and enjoying their activities again. Having our participants back has been a real boost for the whole team here- ECHO just wasn't the same without you all.
Feedback has been that all our participants are doing a really well following the new rules that we have put in place to help keep everyone safe. Well done! Staff are also doing an amazing job keeping the activities exciting and fun whilst coping with PPE (masks, gloves, aprons) and all the extra cleaning we need to do. It is different to how things used to be but we are doing our best and hopefully as we get more used to the new ways of working we will be more creative in what we can do.
Please remember that if you are unwell please don't come into your ECHO activity. If you have any of the following you should get a COVID-19 test and let us know.
A high temperature
A new persistent cough
Loss or change to taste or sense of smell
If you have any concerns, queries or need help with anything, please do let us know either through the project staff or contact us on the office number 01568 620 307.
Best wishes

Mike Cook
Chief Officer,
ECHO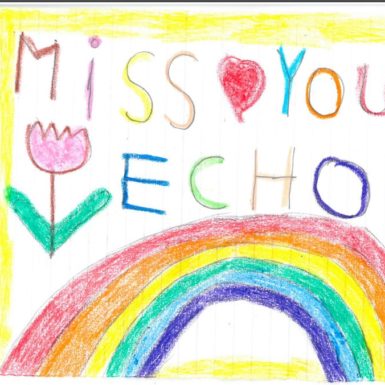 In the spotlight
Keep in touch
Thank you to everyone who has sent us pictures, videos and messages during lockdown. It's lovely to see all the things you have been doing to keep busy during your time in isolation. Keep sending in your artwork, ideas and comments. Let us know how you are and importantly, let us know if we can help. Look after yourselves and remember ECHO is here for you.