ECHO and COVID SAFETY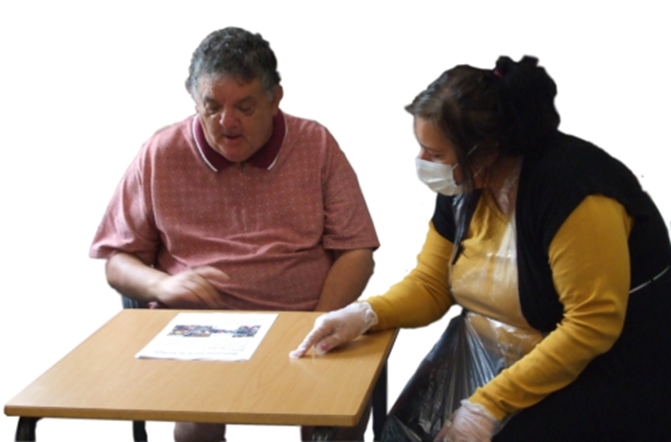 ECHO takes the safety of participants, staff and volunteers very seriously. COVID is a virus which means we can not completely keep it out of our projects. We will do what we can to make our activities as safe as we can.
Government announcement
The Government made some general announcements about relaxing COVID rules and making most precautions something people can choose whether to do.
These changes do not apply to social care.
We are still required to keep in place all of the precautions below as we work with vulnerable people who may need extra protection.
What we do:
Vaccination: ECHO encourages all participants, staff and volunteers to be vaccinated if they can. Being vaccinated helps everyone.
Hand Washing: Everyone should regularly wash their hands with soap and water
Social Distancing: ECHO is keeping social distancing in place
Testing:

Staff and volunteers will do a Lateral Flow test everyday that they work at ECHO.
We ask that if they can, participants do up to two Lateral Flow tests a week. ECHO will provide these tests to do at home.

Personal Protective Equipment: ECHO staff will wear the recommended PPE when working closely with participants.
Cleaning: ECHO is doing extra cleaning at all of our projects. We use cleaners that can kill Coronavirus. We have also bought a machine called a fogger to help us clean if we need to.
Self-Isolation: If someone in your home has COVID, ECHO asks that you don't return unless you have negative LFT tests. If you don't test then you will have to stay away for seven days.
Guidance
ECHO will follow the most up to date guidance and regularly meets with Herefordshire Council and other service providers to make sure we are doing the right things.
Not sure what you should be doing? Then give us a call and we can advise you.
Staying Open
ECHO are committed to staying open as long as we feel it is safe to do so. We know how important our services are to everyone, and so will only close activities if we have to.