Interested in Volunteering for ECHO?
There are many volunteering roles in ECHO and we simply could not offer the level of services we do without the time and commitment given by our volunteers, but what can you expect from us ?
You will support people with disabilities and make a positive difference to your local community 
Our volunteers are valued, useful and appreciated 
You will have the opportunity to use existing skills and life experience, be creative, have fun and meet new people 
We support you to develop new skills 
Still keen to know more ? Read on for our latest opportunities
---
Current Vacancies
Volunteer at ECHO! there are many ways you can support our projects and help people get the most out of their time with us. It can be a very rewarding experience for you as well. ECHO has over 100 volunteers, something we are very grateful for and proud of. Everyone has something to offer.
It's an easy process that begins with an informal chat over a cuppa so we can learn more about what you would like to do. There are 28 projects and other ways to help, so it is important to find the right place that will be rewarding for you and make the best of your talents.
 ECHO Board of Trustees
Ever thought of becoming a Trustee? It can be a very rewarding experience and you would have the satisfaction of knowing you have made a real difference in the governance of our charity. At ECHO strong governance is an integral part of being a well-run organisation for our members.
ECHO Sports – Leominster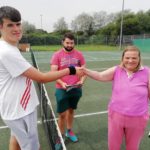 We are always keen to hear from anyone wanting to help out at our various sports clubs held during the week. Fancy badminton on a Monday? Bit of football for fitness on Thursday? New ideas are in development as we hope to extend the range on offer and encourage more engagement. Contact Nick at the ECHO office 01568 620307 for more details.
2019 Tennis Tournament winners, Louis and Sue. Thanks to Leominster Tennis Club for all your help to create the New to Tennis group. Follow LTC on Facebook .
Lifelinks project, Hereford – Wednesdays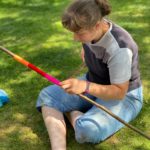 We are looking for the right person to join our team and be part of this fun project based at St Martins Church. Lifelinks helps participants take part in a variety of activities including; helping house bound people by doing their shopping for them and volunteering in the community. We also go out and about quite a bit to visit places, so a car driver is preferred. A volunteer brings an extra pair of hands to help people get the most out of their day.
In addition, the following projects currently have volunteer vacancies: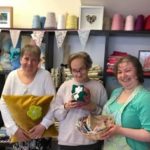 Clever Betsy – craft workshop and retail sales, Leominster
Eaton Barn Community Garden, Stoke Prior Lane, Leominster
Saxon Hall Community Café, Putson, Hereford
The Priory Centre, Leominster