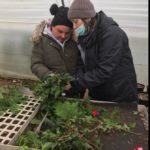 On Friday 3rd December, Eaton Barn will be opening it's doors to local residents to come and see what the project has been up to. Our participants and staff have been really busy getting ready for the day, creating wreaths and sprucing up the site. There will be a selection of Christmas gifts for sale, including wreaths and mistletoe. There may even be some mulled drinks and Christmas goodies available on the day.
Eaton Barn is ECHO's horticulture project, where our participants get to work outdoors in nature, building skills, confidence and health. The project is open to the community and as well as plants and produce, we also sell eggs from our chickens and other crafts we create.
Come along and see us, we'd love to see you.