We had to close all our activities and projects to participants and most of the volunteers to keep them safe.
However, from the very beginning and throughout the lock down we have continued to work hard to keep the ECHO community supported. With a smaller staff team, due to furlough and a much reduced budget we still found ways to stay in touch with everyone. These have included phone calls, emails, online chat sessions and sending out activity packs.
ECHO REP Group have been talking about how to bring us back together again in a safe way and need your help with the Back to ECHO survey. We are inviting all participants and volunteers to let us know how they feel about coming back. It might be an easy decision for some, harder for others. We will listen. It will help us put the right measures in place to make everyone feel safe.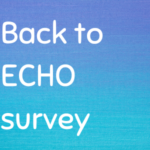 ---
When the time is right we will begin to open up our services again. This will happen gradually and we will follow the guidelines.
---
You can still contact us with any questions or comments. The staff team are working away from the office but will reply to you as soon as possible.
Call us on 01568 620307 or email us – echo.info@echoherefordshire.co.uk
---
ECHO has 28 different projects and activities, there is something for everyone. Read on for more information
Day Opportunities  – a regular placement in one of ECHO's projects where you can go to learn skills, make friends and be part of the team.
Leisure & Social Activities – these are still regular sessions but most of them are run on a drop-in basis so you don't need to book and pay in advance. Turn up, join in, have fun.
As well as all that we have days out, Open Days , supported holidays and much more. The best way to receive the latest news and stay in touch is to receive our free easy-read monthly newsletter. You can sign up to receive this on the contact form.
Our list of projects and activities
ECHO runs many and varied activities during the week, some in the evening and weekends.
Day opportunities – here is a quick list of what we offer
About Face Theatre Company – Herefordshire's Professional theatre company for adults with learning disabilities based in Church Street, Leominster. See more of what they do on the Facebook page.
Clever Betsy – art & craft based workshop and retail shop in Leominster. See their Facebook page for what they get up to.
Community Cafe – partnership with Saxon Hall, Putson, Hereford.
Eaton Barn – our horticulture project at Stoke Prior just outside Leominster. They also have a Facebook page.
Rose Tinted Rags – art, craft and a retail shop based at the Country Bus Station, Hereford. Partnership working with Green Eyed Monster Company. Click for their Facebook page.
Smart Art Storytellers – everyone has a story inside them. Based at the Forbury, Leominster.
Studio Mirai – furniture upcycling at Bridge Street, Leominster. They have a retail outlet at The Retro Station and a Facebook page as well.
The Priory Centre, Leominster  – ideal for those with higher support needs.
Wednesday or Friday Lifelinks – based in Hereford, also out and about in the community.
Sport, Leisure & Social
Badminton – Mondays at Halo, Leominster
Walking for Health – Wednesday in Leominster
Football training – Thursdays at Bridge Street, Leominster
New to tennis – Tuesdays Bridge Street Leisure Centre
Yoga – Tuesdays, Hereford and Leominster
Club Night Out – first Thursday of the month, Leominster
Rendezvous – 16 – 30 night out, second Monday, Leominster
Friday Club Drop-in – every week, Leominster
Yam Jams – music sessions Hereford and Leominster
How we can help
Our aim is to achieve good outcomes for people and promote their right to inclusion in the wider community. We provide services which enable people to:
have real choice and control
enjoy a better quality of life
feel and stay safe.
be part of the communities in which they live
make friends, enjoy social opportunities and not feel lonely
Would you like more information?
If any of our projects or activities are of interest to you, the ECHO office is your first point of contact – 01568 620307. We can then arrange an informal visit to talk about what services you are looking for. Getting to know you as a person is an important part of knowing you will enjoy your time at ECHO and we can make sure we are offering the best support to our members.
If you would like to look at our range of Day Opportunities and Leisure & Social Activities in detail, including outcomes, they are listed here at the Wellbeing Information and Signposting for Herefordshire (WISH) website.
Or give ECHO a call and we can make sure you have all the information you need.