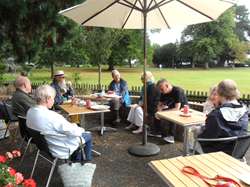 On 12th September, Sunday Company members met up for their first monthly lunch together for 18 months.
Some ate at The Pavilion Café on The Grange and enjoyed sampling their new line in crepes and homemade ice cream.
Others had a more intimate Spanish themed meal at Mel's house, enjoying a large dish of paella accompanied by Spanish music.
Sunday Company is mainly for participants in Leominster who are on their own at weekends. It was lovely to see everyone again and we hope to be able to continue to meet once a month for lunch.