Find out about our weekly fun quiz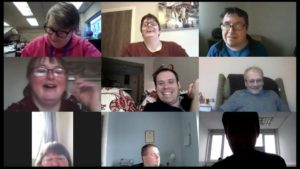 ECHO does Millionaire is our weekly fun quiz where you can meet up with your friends. Here's Tim to tell you all about it.
My favourite thing about ECHO does Millionaire is even though I live miles away I still get to come on Zoom and see all my friends. I think it's a brilliant quiz as it's interesting and fun.
You get asked your own questions and then you can use your lifelines which are
Multiple choice
Ask a friend
Ask the Zoom Room
We also get bonus points for singing our music question answers which is funny.
The best bit is getting to ask Letty really hard questions and she usually gets my questions wrong.
If you would like to take part in this Zoom session or any others in the Social & Leisure online programme, sign up with the attached form.