We're making it safe for us to come back together. As announced earlier this week, We are planning a phased return beginning w/c 27th July. This will only happen once we are confident everyone can stay safe. This includes Participants, Volunteers, Staff and Visitors to any premises we operate from.
This is no small task. Each area has to be carefully thought out. We must follow guidelines and take into account the individual needs of those we support. It means making new rules and finding new ways of working. We are doing this as an organisation and at project level.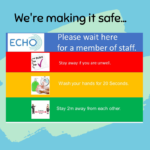 Staff are busy making plans to bring us back together. There is a lot to think about!
Keeping everyone safe is the most important thing. Each project is looking to welcome back participants when they are sure it is safe to do so and everyone feels happy about coming back.
We ran a survey to see what people thought and over 75% said they were happy to come back. We looked at the reasons why the other 25% had said no to see if we could offer support. In some cases we could and look forward to welcoming them back soon.
Throughout the lockdown, staff stayed in touch with participants and volunteers. Over 3000 contacts have been made. It has helped us understand what concerns people have about returning.
We will continue to keep in touch and share with you the work happening behind the scenes.